Several years ago, the actor Bill Murray, who is a practicing Catholic, gave an interview to the British newspaper The Guardian, in which he spoke of the Church's move away from the use of Latin after the Second Vatican Council.
"One new saint he does approve of is Pope John XXIII (who died in 1963). 'I'll buy that one, he's my guy; an extraordinary joyous Florentine who changed the order. I'm not sure all those changes were right. … I think we lost something by losing the Latin. … ' "
St John XXIII was actually from a small village in Lombardy called "Under-the-Mountain (Sotto il Monte)", near Bergamo. But far more importantly, and contrary to the popular impression evinced by Mr Murray's words, it was never his intention that the use of Latin should diminish in the Church. Quite the contrary: it was he who issued the Church's most definitive pronouncement on the importance of Latin, the Apostolic Constitution Veterum Sapientia, for which our institution is named.
Next week, February 22, the feast of St Peter's Chair, will mark the 60th anniversary of the promulgation of this document, which was done with the greatest possible solemnity, signed on the high altar of St Peter's Basilica, as the Pope's way of communicating its extraordinary importance. For the next few days, therefore, we will look at some of its most significant passages.
(Public domain image from Wikimedia Commons.)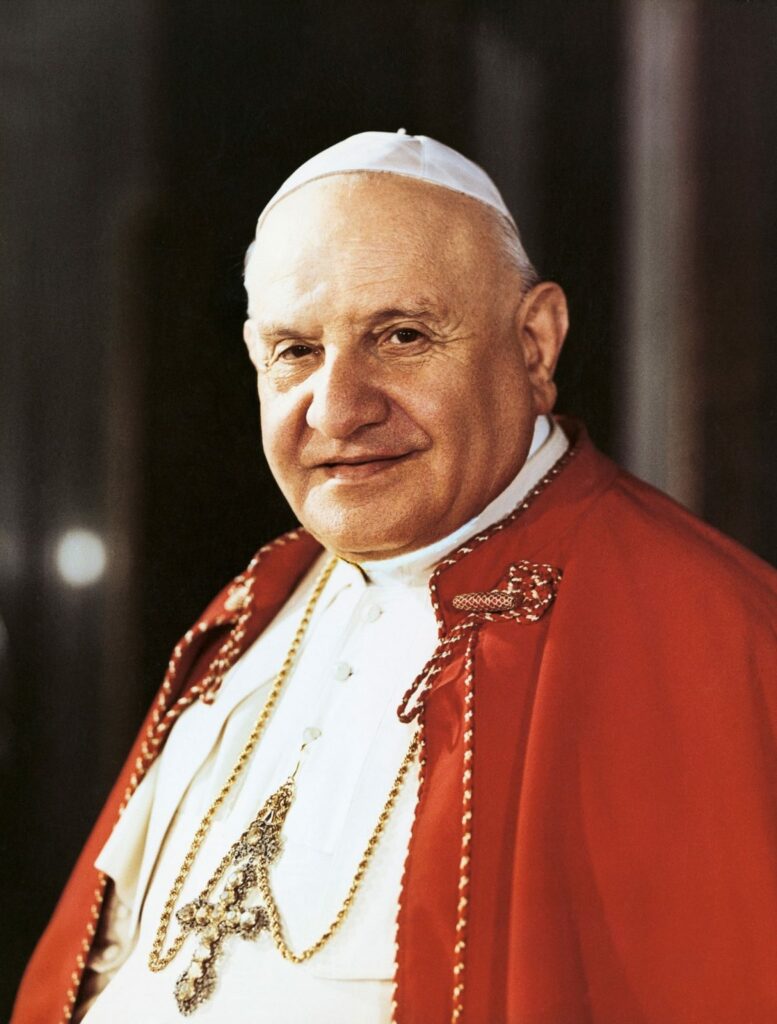 St John begins by outlining the many reasons why the Church has always encouraged the study and use of Latin, as one of the sacred languages which "bear constant witness to the living voice of antiquity." Latin was "the means for the spreading of Christianity throughout the West. And since in God's special Providence, this language united so many nations together under the authority of the Roman Empire… it also became the rightful language of the Apostolic See." Latin is also a bond of unity among Christians, a language which "(o)f its very nature …. is most suitable for promoting every form of culture among peoples. It gives rise to no jealousy. It does not favor any one nation, but presents itself with equal impartiality to all and is equally acceptable to all."
He goes on to cite an apostolic letter of Pope Pius XI, that the "knowledge and use of this language … is important not so much on cultural or literary grounds, as for religious reasons. … For the Church, precisely because it embraces all nations and is destined to endure to the end of time … of its very nature requires a language which is universal, immutable, and non-vernacular.' "
Latin is a universal language, "the instrument of mutual communication … between the Apostolic See and the Churches which use the same Latin rite," and it serves this purpose admirably because it is immutable, unlike the vernacular languages, and "has long since ceased to be affected by those alterations in the meaning of words which are the normal result of daily, popular use." The Latin language " 'can be called truly catholic' " because it has been consecrated through constant use by the Apostolic See, the mother, and teacher of all Churches, and must be esteemed 'a treasure … of incomparable worth.' It is a general passport to the proper understanding of the Christian writers of antiquity and the documents of the Church's teaching. It is also a most effective bond, binding the Church of today with that of the past and of the future in wonderful continuity."